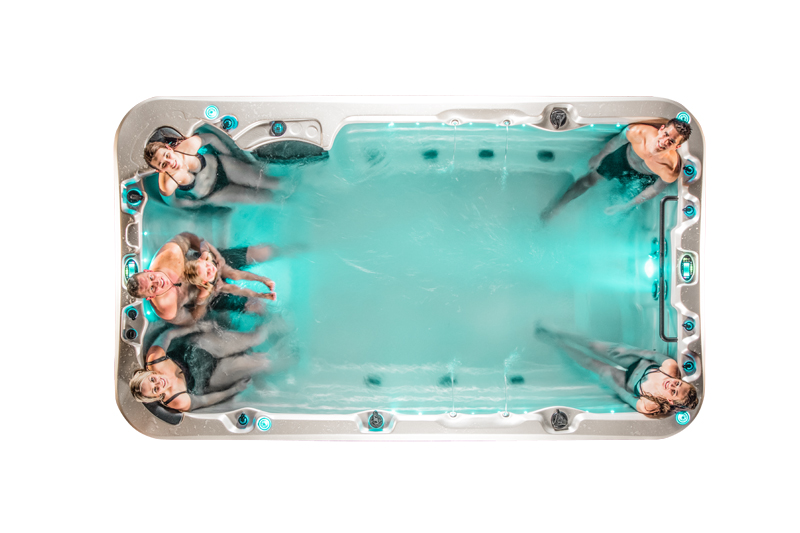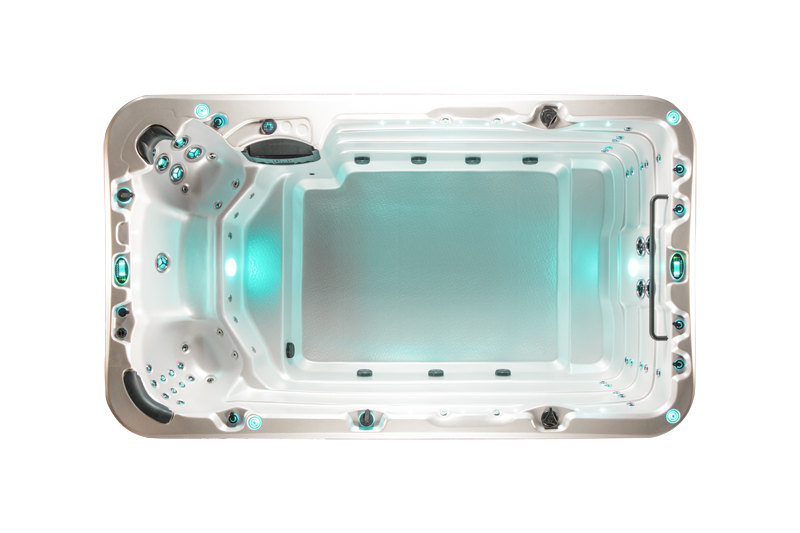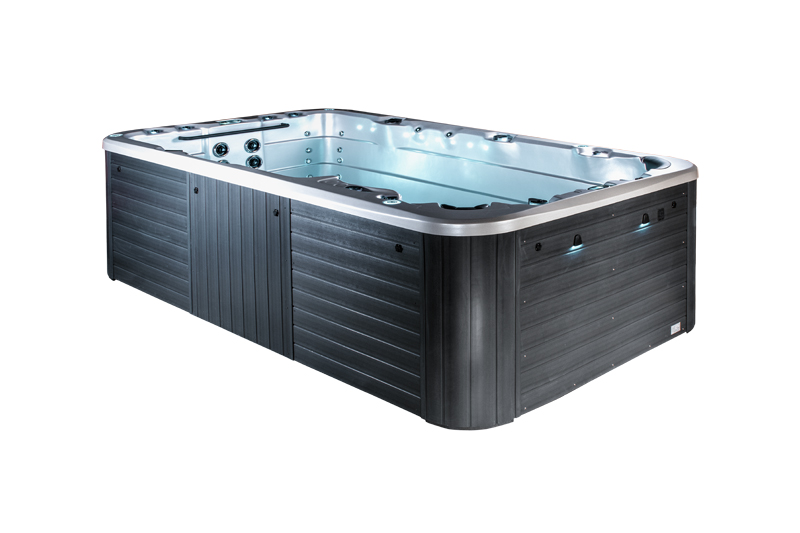 Is the Aqualounge for you?
The Aqualounge has become a family favourite. It's a four metre, single zone swim spa that still with all the features that Vortex swim spas have become famous for.
The Aqualounge has comfortable seating for four adults, up to 81 jets, up to four high volume swim jets and 4 pumps. After a swimming work-out you can relax in the spa zone and choose from a hydrotherapy lounger, a back massage seat, a neck and shoulder therapy seat or the well used cool down seat. The Aqualounge has a depth of 1.2 metres and this swim spa is where quality family time and personal combine perfectly.
Name: Aqualounge
Size (cm): 400 x 230 x 120
Capacity / Seats: 4 seats
Jet Pump:

3hp x 2 (Pro Version)
3hp x 3 (Pro Plus Version)
3hp x 4 (Extreme Version)

Programmable Circulation Pump: 250W
Swim Flow Rate:

1,200lpm (Pro Version)
1,800lpm (Pro Plus Version)
2400lpm (Extreme Version)

Total Jets (Stainless Steel):

77 Standard Jets plus 2 Swim Jets (Pro Version)
77 Standard Jets plus 3 Swim Jets (Pro Plus Version)
77 Standard Jets plus 4 Swim Jets (Extreme Version)

Air Blower: 1,000W
Balboa Heater: 3kW
Perimeter Insulation : √
Dual-layer Insulation: √
Intelligent Thermal Tuning: √
Thermobond, 4 Layer Shell Construction: √
Thermoclad Cabinet : √
Purezone Micro Filtration: √
Purezone Ozone Water Clarifier: √
Purezone UV Water Purifier: √
Duraflex Plumbing: √
Molded, High Impact Base: √
Adjustable Aromatherapy: √
Water Cascade : √
Underwater Flood Lighting : √
Lockable Hard Cover: √
Neck Therapy Collar: √
Stainless Steel Jets : √
Backlit Laminar Jets : √
Hydroflow Stainless Steel Jets: √
Hydroglow Jet and Topside Control Lighting: √
Individual Seat Pressure Controls: √
Backlit Drink Holders: √
Perimeter and Cabinet Lighting: √
Hybrid Heat Pump : Optional
Hydravibe Bluetooth Stereo System : Optional
Wifi App-based Remote Control : Optional
Arctic Pack Insulation: Optional
Electrical (max): 32amps
Dry Weight : 900 kg
Filled Weight : 7,200 kg
Water Volume : 6,300 L
Spa Colour Options
Gypsum
Ocean wave
Pearl shadow
Stirling silver
Cabinet Colour Options
Chocolate
Coastal Grey
Natural