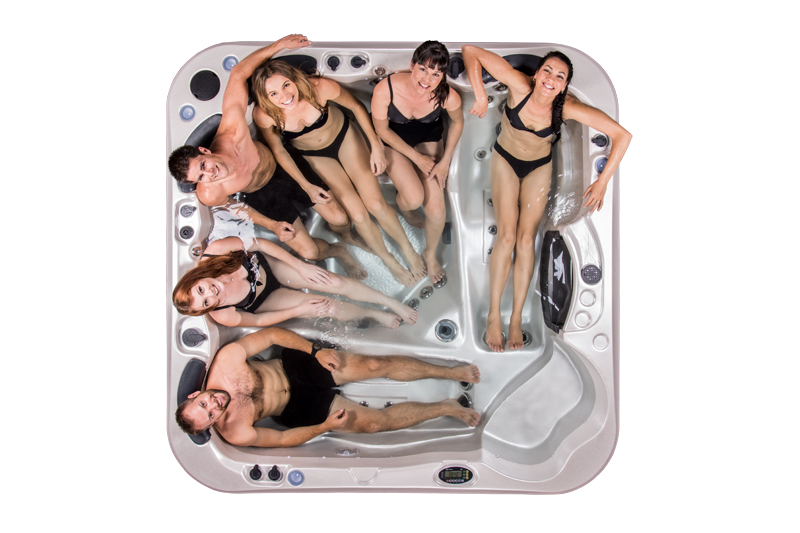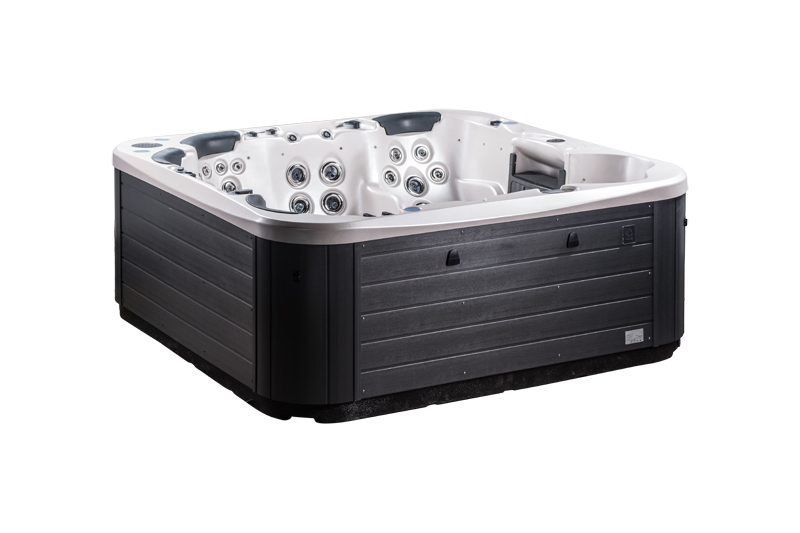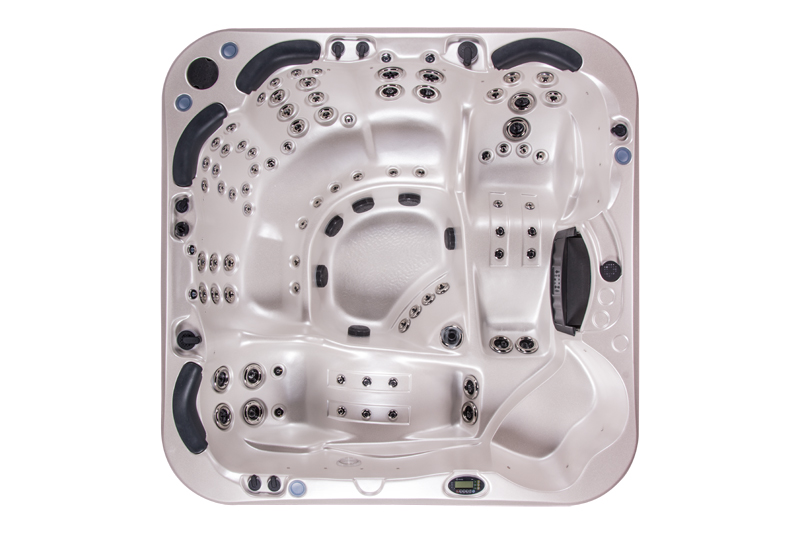 Is the Spectrum for you?
The Vortex Spectrum is the most popular selling large hydrotherapy spa. The Spectrum is ergonomically designed, has dual hydrotherapy loungers and up to 81 therapeutic jets to make relaxing in it a foregone conclusion.
The side by side love seat has groups of 30 acupressure jets that will give a stimulating massage to tired muscles and will help soak away all and any aches. The Spectrum comfortably seats up to six adults. It also includes twin toddler seats making it a great family spa pool.
Spectrum's Volcano jet is perfect for massaging 'difficult to reach' parts of the body. These often ignored areas include your chest, hamstrings and lower back. An impressive 700 litres of water is pushed through the Volcano jet every minute. It's also great for the ultimate foot massage.
Standard water features in your Spectrum spa will create the most wonderful and magical atmosphere to unwind in. Whether you're entertaining around, or in your Spectrum, the Twin Waterfalls provide a great centre piece. Add in Vortex's Aquavibe Sound System and your Spectrum becomes a dream for entertainers.
Name: Spectrum (Hydroplus)
Size (cm) (L x W x H): 230 x 230 x 92
Seats: 6 + 2 Seats (2 Loungers)
Total Jets (Stainless Steel): 81
Therapy Rating: 10/10
Jet Pump(s): 3hp x 3
SpaNet Silent Circulation Pump: 250W
Balboa BP Control System: √
Air Blower: 1,000W
Balboa Heater: 3kW max
WiFi App-Based Remote Control: Optional
LED Backlight Water Cascade: √
Aromatherapy System: √
Backlit Laminar Jet Water Feature: 4
Non-Slip Backlit Drink Holders: 4
Smart Stream BBA Bluetooth Stereo System: Optional
Wine Cooler / Drinks Chest: √
Individual Seat Pressure Controls: √
Neck Therapy Collar: ×
High Pressure Volcano Jet: 1
Hydroflow Bearingless Jets: √
Underwater LED Floodlight: √
Programmable LED Lighting Effects: √
Hydroglow Jets and Control LED Lighting: √
Perimeter and Cabinet Lighting: √
Purezone Ozone Water Clarifier: √
Purezone Multi Stage Filtration: √
Purezone UV Steriliser: √
High Density Lockable Spa Cover: √
Base and Perimeter Insulation : √
Shell Insulation: √
Hybrid Heatpump : Optional
Arctic Pack Insulation: Optional
USA Made Aristech Acrylic: √
Thermobond Multi-Layer Oven Cured Shell: √
12 Cabinet / Shell Colour Combinations: √
Timber-Free Permaframe Construction: √
Thermoclad No Maintenance Cabinet : √
High Impact Moulded ABS Base: √
Duraflex No Kink PVC Plumbing: √
Electrical (max): 32 amps
Dry Weight : 384 kg
Filled Weight : 1,784 kg
Water Capacity: 1,400 L
Spa Colour Options
Gypsum
Ocean wave
Pearl shadow
Stirling silver
Cabinet Colour Options
Chocolate
Coastal Grey
Natural